Nationally Prominent Psychologist and Author Located in the San Francisco Bay Area
Bryant Welch works with patients experiencing trauma, anxiety, depression, relationship or work issues, grief, and other complex psychological situations.
Consultations are available via Zoom.
Hi, I'm Bryant Welch,
I have been providing psychotherapy services for almost forty years, and there has never been a more exciting time than now to be doing psychotherapy. The increased understanding of the mind we are receiving from advances in neuropsychology and from the meaningful integration of Eastern thought with Western psychology is enabling us to provide more effective care more rapidly than ever before.
Psychotherapy is the most personal of all professional services and has to be built on trust, kindness, and sensitivity. Without these qualities it simply will not work. Over the years I have learned that every human mind and every human story is unique and that a good therapist has to recognize that and listen carefully to every patient.
Stylistically, when I work with people in therapy, I am very much a participant. In other words, I do not sit quietly like a "blank screen." You will know what I am thinking and, I hope you will feel we are engaged in a respectful, collaborative process.
Dr. Welch's Services
Dr. Welch provides psychotherapy to individuals and couples and consults with attorneys, mental health professionals on psychological, legal and ethical matters.
Psychotherapy and Consultations for Adults and Couples
Consultations for Attorneys and Mental Health Professionals Dealing With Complex Professional Situations
Read Dr. Welch's Critically Acclaimed Book, State of Confusion: Political Manipulation and the Assault on the American Mind
In Bryant Welch's critically-acclaimed book "State of Confusion," he provides a comprehensive explanation of what has gone wrong with the American Mind that is making millions of Americans engage in such strange behavior disregarding logic, common sense, and self-interest. He also explains what American can do to begin to reverse the pernicious psychological forces at play before America descends into a crazed and autocratic state.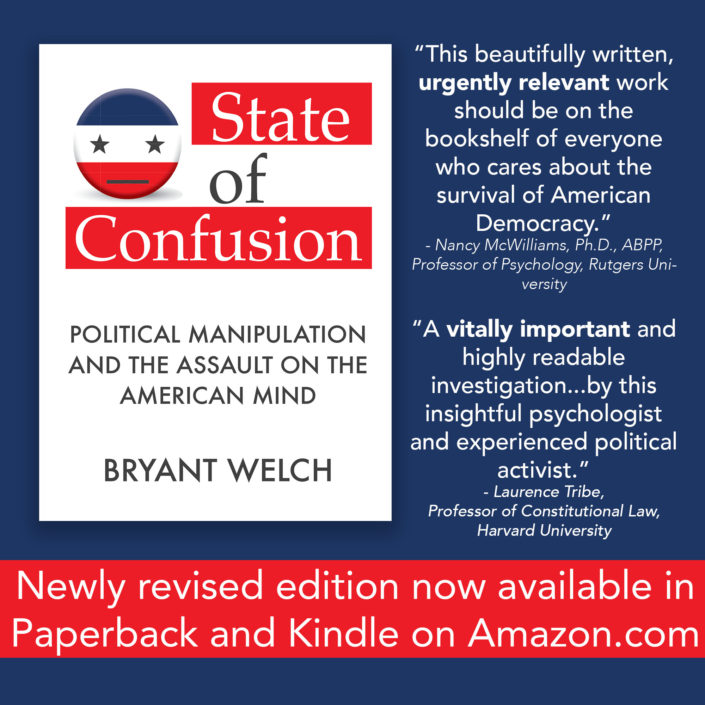 Dr Welch's book State of Confusion: Political Manipulation and the Assault on the American Mind is "a virtual Rosetta Stone to understanding how so many Americans are living in an alternative reality."